Green Speaker Series
Invasive Phragmites: Expert Panel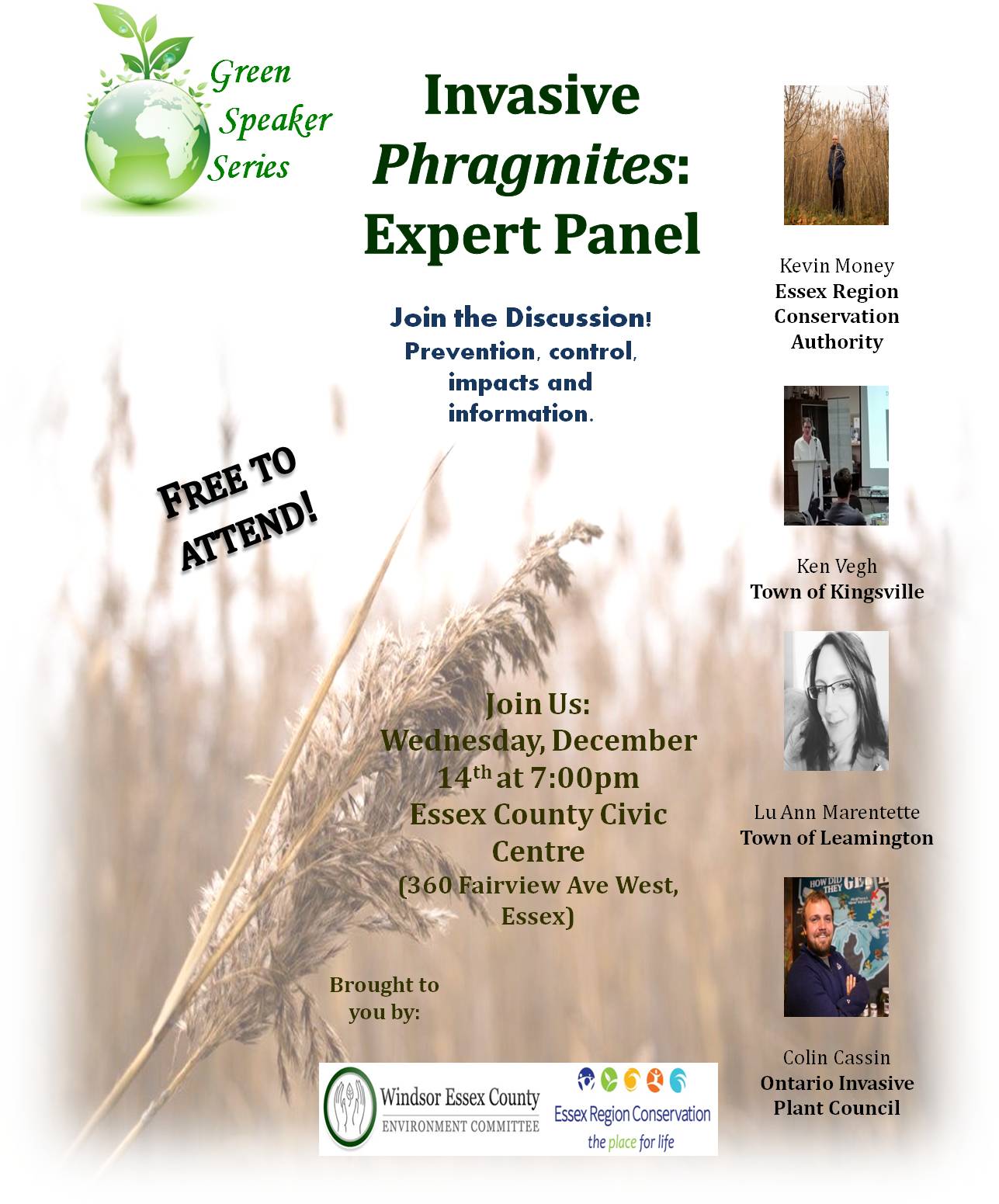 The Windsor Essex Environment Committee will team up with Essex Region Conservation and the Ontario Invasive Plant Council to explore the significant issues surrounding invasive Phragmites in the latest Green Speaker Series.

"Invasive Phragmites is an exotic plant species causing serious damage to biodiversity, wetlands and shorelines in the Essex region and across Ontario," explains Averil Parent, Coordinator for the Windsor-Essex Environment Committee. "Because it is so difficult to control, we thought it would be an excellent topic to explore as part of WECEC's Green Speaker Series."

Colin Cassin of the Ontario Invasive Plant Council (OIPC) will be the keynote speaker. Colin coordinates the Early Detection and Rapid Response Network of Ontario, a program which utilizes citizen scientists to reduce the impact of invasive species across the province, and works on other invasive plant projects. Ken Vegh and Lu-Ann Marentette, Drainage Superintendents for the Towns of Kingsville and Leamington will also speak to the challenges of this invasive plant within our region. Kevin Money, ERCA's Director of Conservation Areas, will highlight a recent pilot project.

Do you have a project you think would be of interest to the Committee?
We are more than happy to accept delegations. Please take a look at our delegation policy and submit a request to our coordinator.
View Our
Delegation Policy.

Green Drinks hosted by the PIBO

November 28, 2018

Please join like minded environmental advocates at 6pm November 28th at Talool...
Pat on the Back Awards

June 11, 2018

Join the Windsor Essex County Environment Committee in celebrating and awardin...
An Evening with Madeleine Thien

May 9, 2018

The Pelee Island Bird Observatory's program for the evening will feature Marga...
Film Screening: Earth Seen from the Heart

April 29, 2018

On Sunday April 29, 2018 at 4:30pm you can enjoy the film Earth: Seen from the...