Green Speaker Series
Environmental Commissioner of Ontario Gord Miller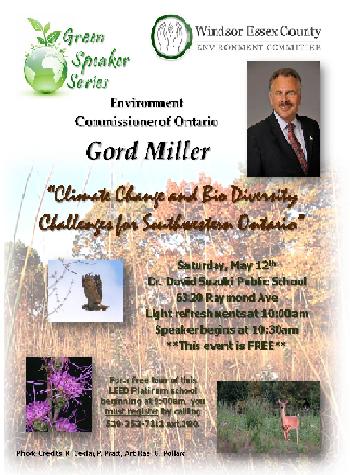 The Windsor Essex County Environment Committee would like to welcome you to our second "Green Speaker Series" event! Environmental Commissioner of Ontario Gord Miller is coming to Windsor-Essex to discuss potential biodiversity challenges for our fragile ecosystem as a result of a changing climate. Mr. Miller's office released a Special Report in January 2012 entitled "Biodiversity: A Nation's Commitment, an Obligation for Ontario" describing Ontario's duty to conserve biodiversity and the role of each Provincial Ministry.

The event is on Saturday, May 12th at the Dr. David Suzuki Public School (6320 Raymond Ave Windsor) and will begin with a light brunch buffet and poster session at 10am. Gord Miller will begin his public talk at 10:30am which will be followed by a lengthy Question and Answer session. This is a FREE public event.

Do you have a project you think would be of interest to the Committee?
We are more than happy to accept delegations. Please take a look at our delegation policy and submit a request to our coordinator.
View Our
Delegation Policy.

Green Drinks hosted by the PIBO

November 28, 2018

Please join like minded environmental advocates at 6pm November 28th at Talool...
Pat on the Back Awards

June 11, 2018

Join the Windsor Essex County Environment Committee in celebrating and awardin...
An Evening with Madeleine Thien

May 9, 2018

The Pelee Island Bird Observatory's program for the evening will feature Marga...
Film Screening: Earth Seen from the Heart

April 29, 2018

On Sunday April 29, 2018 at 4:30pm you can enjoy the film Earth: Seen from the...